申请和录取程序
1.河北工程大学的申请应通过电子邮件提交至guojichu@hebeu.edu.cn截止报名日期。
提交的材料:
1) 国际学生申请表(见附件);
2) 本科学历:高中毕业证书及成绩单扫描件;
硕士学位:学士学位证书及成绩单扫描件;
3) 护照首页扫描件;
4) 外国人体检记录扫描件(见附件);
5) 警察局提供的无犯罪记录证明扫描件;
6)经济担保证明扫描件。
2.被录取的学生应持有X签证。
3.学生按照规定的录取通知书向学校报到,并携带以下材料:
1) 录取通知书
2) 中国留学签证申请表(JW202)
3) 有效护照
4) 10张护照大小的照片
5) 外国人体检表
注意:您可以在您所在国家靠近您的任何医院进行体检。必须检查表单上的所有项目。需要一张近照、医生签名和医院的公章。
6) 警方提供的无犯罪记录。
7)经济担保证明。
4.注册前支付一年学费。
注意:学习一个月后,学费将不予退还。
注册后一年内不得转学到其他大学。
5.需要在到校后,在规定时间内进行体检。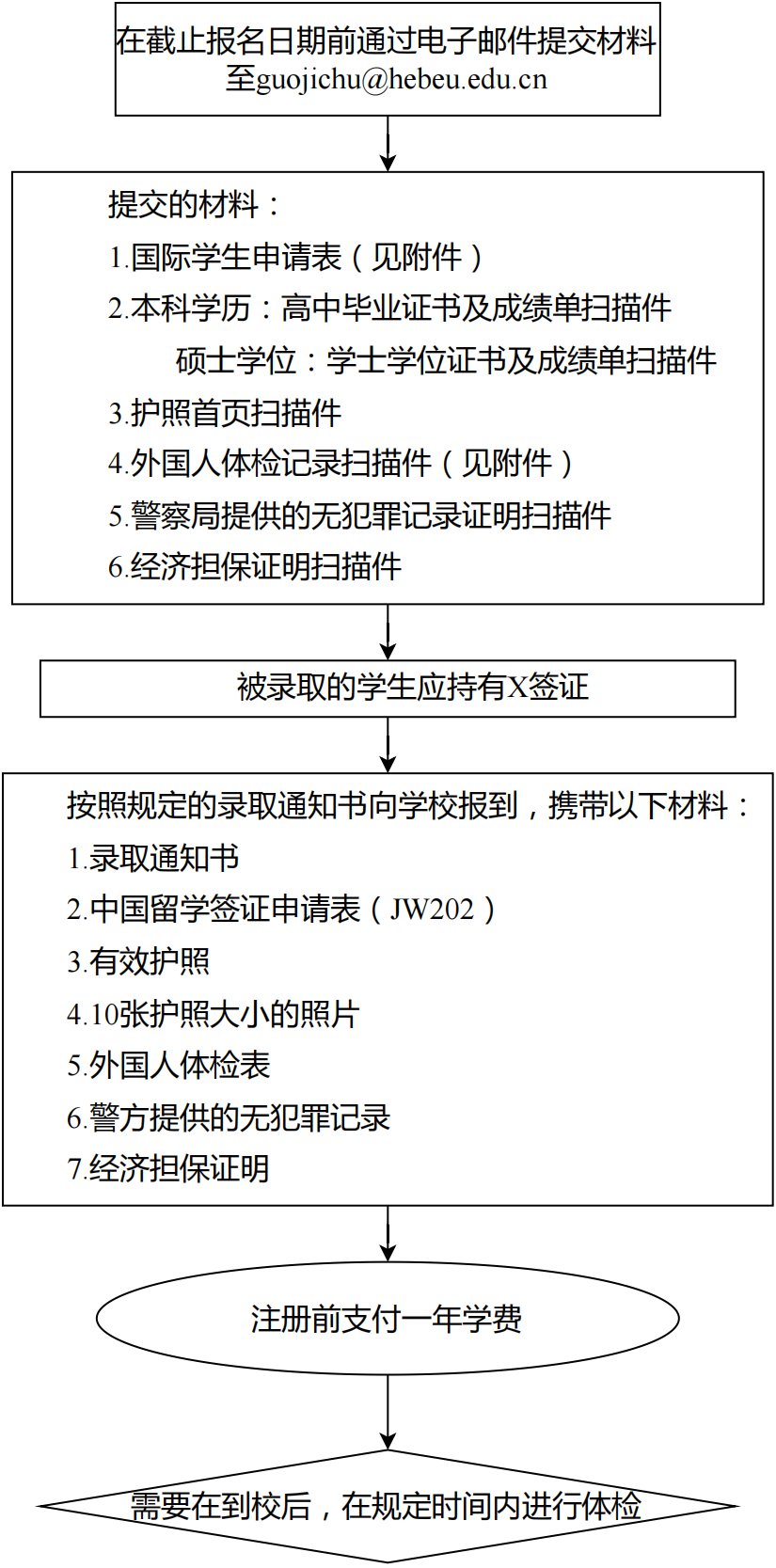 Application and Admission Procedures
1.Applications to Hebei University of Engineeringshould be submitted by email to guojichu@hebeu.edu.cn by the application deadline of theprogram.
Materials to be submitted:
1)Application Form for International Students(see theattached);
2)Bachelor degree: Scanned copy of Senior High School certificate andTranscript;
Master degree:Scanned copy of Bachelor Degreecertificate andTranscript;
3)Scanned copy of the first page of yourpassport;
4) Scanned copy of Physical Examination Record for Foreigners(see the attached);
5)Scanned copy of Non-criminal Record provided by policeauthority;
6)Scanned copy of Financial Support certificate.
2.The admitted student should holdX-visa.
3. Student reports to the university as the Letter of Admission prescribed and brings the following materials:
1)Letter ofAdmission
2)Visa Application for Study in China(JW202)
3)ValidPassport
4)10 passport-sizephotos
5)Physical Check-up Form forForeigners
Notice: You may take a physical examination at any hospital close to you in your country. All items on the form msut be checked. A recent photo, doctor's signiture, and an official stamp of the hospital are all needed.
6)Non-criminal Record provided by policeauthority.
7)Financial Support certificate.
4.Pay one-year tuition and fees before register.
Notice:After a month of study, tuition fees will not berefunded.
After registration, you are not allowed to transfer to another university within one year.
5.Physical Check-up at arrival isrequired.